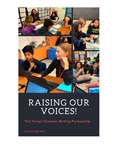 Files
Download Front Matter (562 KB)
Download Furry Friends and Their Inmate Companions Work Together to Secure a Brighter Future (125 KB)
Download The Positive Effects of Marriage (132 KB)
Download Greek Life and Mental Health Initiatives (147 KB)
Download One Year After the Reeves Hall Renovations, What do Students Think? (258 KB)
Download Know What You Eat, Especially With Your Meat (127 KB)
Download School Violence (139 KB)
Download Closet Detention (134 KB)
Download Problematic Society and How to Get Help (127 KB)
Download Pink Tax (132 KB)
Download Animals Have Rights Too (139 KB)
Download Hope, Horses, and Happiness (156 KB)
Download Anxiety and College Students (135 KB)
Download Golden Gamers (173 KB)
Download Show Some Love for the Pitbulls (127 KB)
Download Pitbulls Aren't That Bad (136 KB)
Download GRETA (138 KB)
Download Pinkbulls are the Newest Accessory (159 KB)
Download The "Crazy" Thing We Are Missing in School (129 KB)
Download Religious Expression: Freedom to Express One's Religious Orientation on College Campuses (183 KB)
Download The Unsung Hero Next Door: Resident Advisors Protect the Basic Rights of Students Each Day (160 KB)
Download The Unfairness of Dress Code (127 KB)
Download The Experience with PTSD (157 KB)
Download Preventing Suicide (135 KB)
Download The Cost of Higher Education: Tuition and Student Debt (136 KB)
Download The Evolution of Technology in the Classroom (159 KB)
Download The Downfall of Uniforms (226 KB)
Download Identity Education: What It Is & Why We Need It (127 KB)
Download Banned Books: Are Students' Rights Being Limited? (169 KB)
Download Why Feminine Products Should Be Free of Heavy Tax- A Woman's Right (129 KB)
Download Gender Inequality (132 KB)
Download Black Lives Matter (125 KB)
Download The Challenges of Challenges (134 KB)
Download Are Our Voices Truly Free? (125 KB)
Download Animals are Going Extinct & It's All Our Fault (137 KB)
Download Starting School Late (134 KB)
Download rHomeless In Need (133 KB)
Download Colleges, Politics, and Free Speech (131 KB)
Download Animal Liberation (132 KB)
Download Smoking and Vaping (127 KB)
Download Immigration Situations (134 KB)
Download Bullying In School (133 KB)
Download Mental Health Should Be Part of Health Education Classes (145 KB)
Description
During the Spring 2019 semester, Dr. Noah Asher Golden's Teaching of Writing K-12 students partnered with the Journalism class at Yorba Academy for the Arts. Through collaboration over a four-month period, Chapman's future teachers and Yorba's junior high journalists engaged a deep writing process to write a series of features, editorials, and news articles related to a number of global issues. Thank you to Principal Preciado-Martin, former principal Tracy Knibb, Mrs. Andrea Lopez, Mrs. Kori Shelton, and the Lloyd E. and Elisabeth H. Klein Family Foundation for supporting this project.
Publication Date
Spring 2019
Disciplines
Bilingual, Multilingual, and Multicultural Education | Curriculum and Social Inquiry | Educational Leadership | Educational Methods | Elementary Education | Higher Education | Journalism Studies | Language and Literacy Education | Nonfiction | Other Education | Other Rhetoric and Composition
Recommended Citation
Albaugh, Griffee; Andrade, Tiana; Chen, Mitchell; Cho, Eric; Contreras, Kimberly; Ipatzi, Minerva; Oporta, Natalie; Cortes, Jorge; Flores, Wendy; Sato, Victoria; Hernandez, David; Hill, Kendall; Guzman, Ryan; Lopez Huerta, Jose; Villaseñor, Gerard; Basche, Isa; Castro, Anthony; Bello, Adolfo; Ferman, Raymond; Callahan, Paul; Coston, Olivia; Ornelas, Julie; Gore, Jane; Jimmons, Jiva; Kato, Sakura; Latin, Jessie; Leung, Erin; Miranda, Diana; Partida, Sydnie; Regalado, Reuben; Velazquez, Kimberly; Arriaga, Isabelle; Banda, Ezekiel; Benitez De La Cruz, Angelynn; Hernandez, Airiale; Caires, Alana; Carbajal, Katelyn; Eastley, Karly; Estes, Kiaya; Fulton, Layla; Rosales, Leslie; Ryan, Bella; Gallardo, Marisol; Gonzalez, Krystal; Ortiz, Ciera; Shellenbarger, Brody; Solano, Jackie; Gallego, Kyra; Garcia, Vanessa; Vo, Nhi; Gutierrez, Emily; Hernandez, Sarah; Pineda, Keila; Quinones, Valerie; Kudlinski, Luke; Mbodwam, Samantha; Muro, Alexa; Nava, Jasmine; St. Clair, Dayana; Teran, Lizbeth; and Wong, Heaven, "Toro Times: Raising Our Voices!" (2019). Yorba-Chapman Writing Partnership Anthology of Journalistic Writing. 4.
https://digitalcommons.chapman.edu/yorba-chapman/4
Creative Commons License


This work is licensed under a Creative Commons Attribution-Noncommercial-No Derivative Works 4.0 License.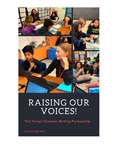 Included in
Bilingual, Multilingual, and Multicultural Education Commons, Curriculum and Social Inquiry Commons, Educational Leadership Commons, Educational Methods Commons, Elementary Education Commons, Higher Education Commons, Journalism Studies Commons, Language and Literacy Education Commons, Nonfiction Commons, Other Education Commons, Other Rhetoric and Composition Commons
COinS