Preview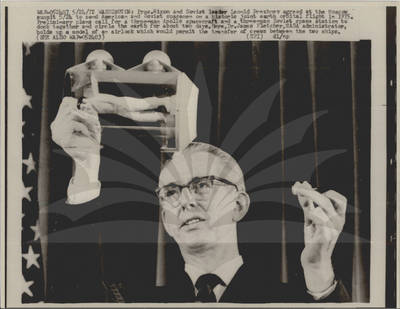 Identifier
35160004355286
Subject—Names
Nixon, Richard M.
Subject—Places
Soviet Union
Subject—Topics
Soviet Union--Politics and government
Description
Washington: Pres. Nixon and Soviet leader Leonid Brezhnev agreed at the Moscow summit 5/24 to send American and Soviet spacemen on a historic joint earth orbital flight in 1975. Preliminary plans calls for a three-man Apollo spacecraft and a three-man Soviet space station to dock together and circle the earth for about two days. Here, Dr. James Fletcher, NASA administrator, holds up a model of an airlock which would permit the transfer of crews between the two ships.
Format
BW Photograph, 11" x 8.5"
Source
United Press International