Title
Preview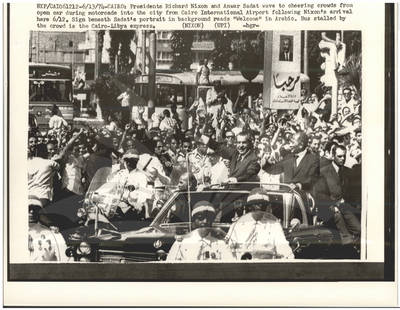 Identifier
35160004355310
Subject—Names
Nixon, Richard M.
Subject—Places
Middle East
Subject—Topics
Middle East--Politics and government--20th century
Description
Cairo: Presidents Richard Nixon and Anwar Sadat wave to cheering crowds from open car during motorcade into the city from Cairo International Airport following Nixon's arrival here 6/12. Sign beneath Sadat's portrait in background reads 'Welcome' in Arabic. Bus stalled by the crowd is the Cairo-Libya express.
Format
BW Photograph, 11" x 8.5"
Source
United Press International