Preview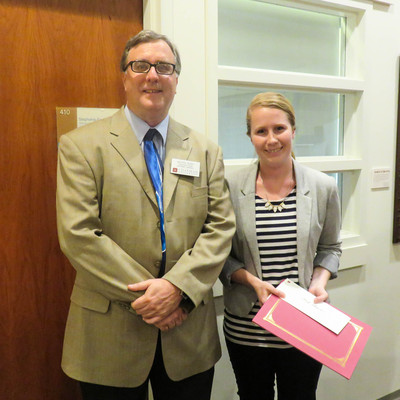 Description
Amanda Larsh, 2017 third place winner with Kevin Ross, contest co-sponsor and Associate Dean of the Leatherby Libraries.
Major
History / News & Documentary
Title of Entry
"Cry 'Havoc!' and Let Slip the Dogs of War!": The Canine Experience in the A.E.F.
Supporting Faculty
Dr. Leland Estes
Research Description
Ms. Larsh's paper focused on how dogs were used by the American Expeditionary Forces during World War I. Of particular note is the focus on Sgt. Stubby, a dog that went to war, saved lives, and returned safely. Ms. Larsh provided examples of poems written about Stubby that reflect the admiration of his regiment and his nation.
Essay on the Research Process and Use of the Library
Ms. Larsh began her research in spring 2016. She soon learned that little had been written about her topic that could be retrieved through the conventional methods that she had employed in previous research projects. She then met with Rand Boyd, Coordinator of Special Collections & Archives, and used WorldCat to find materials that could be requested through interlibrary loan. Ms. Larsh was able to access a variety of materials such as first editions, original government pamphlets, and a scrapbook from the Smithsonian. In addition to using the Leatherby Libraries, she visited the Pasadena Public Library to review materials that discussed the use of dogs being used for war work in the city. The research skills employed by Ms. Larsh have had an impact on her career as a documentarian as well as helping her paper to win second place at the Southern California Regional Phi Alpha Theta Conference.