Preview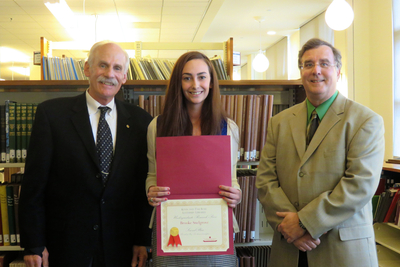 Description
Pictured is 2015 second place winner Brooke Snelgrove with Dr. Steven L. Schandler, Psychology (left) and Mr. Kevin Ross (right).
Title of Entry
Treatment of Post-Traumatic Stress Disorder in a Veteran Population: Efficacy of Complementary and Alternative Medicine Therapies
Supporting Faculty
Dr. Steven L. Schandler
Research Description
Ms. Snelgrove started with a hypothesis that veterans diagnosed with Post-Traumatic Stress Disorder and treated with complementary and alternative medicine would show greater improvement that those treated with other, evidence-based treatments. She concluded that, while there was not a significant difference when compared across commonly used symptom assessment scales, more research is needed to be able to assess, isolate, and standardize treatment in different veteran populations.
Essay on the Research Process and Use of the Library
Ms. Snelgrove used many of the library's databases, such PsycARTICLES, PsycINFO, Academic Search Premier, Web of Science, and Science Direct. In addition, she attended four library instruction sessions over the course of her time at Chapman, including one taught by librarian Douglas Dechow, who demonstrated how to optimize searches using keywords and subject searches. Ms. Snelgrove feels that her experience evaluating articles and their significance has prepared her as a professional in her chosen field.