Preview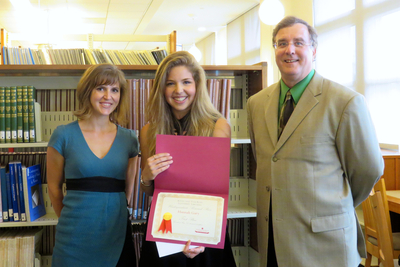 Description
Pictured is 2015 first place winner Hannah Gary with Dr. Emily Carman, Film Studies (left) and Mr. Kevin Ross (right).
Title of Entry
Moviegoers and the Moon in 1953
Supporting Faculty
Dr. Emily Carman
Research Description
Ms. Gary uses Otto Preminger's 1953 film The Moon Is Blue as the focal point in an examination of censorship in the early 1950s. The paper shines a light on the perspectives of the movie-going public through the lens of censors, artists, government, and the Production Code Administration, which ultimately failed in its attempts to quash the film's sexually-provocative message.
Essay on the Research Process and Use of the Library
Ms. Gray realized early on that her topic would need primary documents as its base with secondary materials as support. She made use of the library's extensive cinema collection as well as the databases JSTOR, and Academic Search Premier. Of particular help was her meeting with librarian Maria Yanez, who gave Ms. Gary an individual tutorial on how to use the Production Code Administration microfiche. Ms. Yanez also provided ideas for searching that helped narrow the search results to more relevant sources. During the course of the research, Ms. Gary realized the importance of evaluation when selecting sources and to approach any research project with a healthy dose of skepticism.