Preview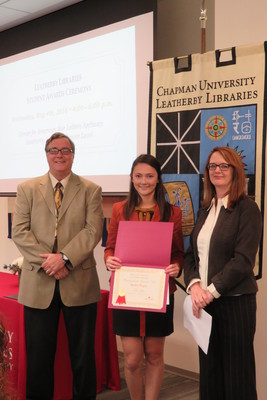 Description
First place winner Baylor Hogan (center), with Kevin Ross, contest co-sponsor and Associate Dean of the Leatherby Libraries (left) and Carolyn Radcliff, Chair of Public Services at the Leatherby Libraries (right).
Title of Entry
The Effectiveness of Yoga Therapy on an Adult, Post-Stroke Population: A Systematic Review
Supporting Faculty
Dr. Elizabeth DeBaets
Research Description
Ms. Hogan started with the premise that the current literature on the relationship between stroke and yoga therapy is limited in scope. This systematic review is the first step in evaluating the literature on the efficacy of yoga therapy in adults post-stroke. Ms. Hogan completed the review to determine recommendations for further trials.
Essay on the Research Process and Use of the Library
Ms. Hogan's process began with the Leatherby Libraries' Discover! search engine and progressed into more specialized databases, such as PubMed, Web of Science, Academic OneFile, and ScienceDirect. She employed advanced search methods to narrow results to human subjects within a defined date range, focusing on primary studies and reviews. Ms. Hogan received library instruction from Doug Dechow, Digital Humanities and Science Librarian, and Carolyn Radcliff, Education Librarian. As an aspiring physical therapist, the evaluative and research skills that she mastered have reinforced the importance of evidence-based practice in the healthcare field.