Preview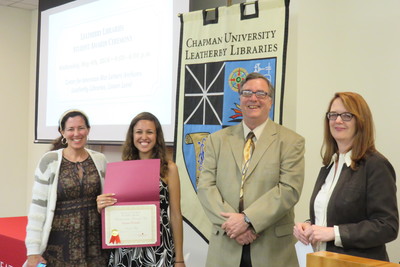 Description
Second place winner Emma F. Plotnik (second from left), with (from left to right) Dr. Jessica Sternfeld, Emma's faculty mentor; Kevin Ross, contest co-sponsor and Associate Dean of the Leatherby Libraries; and Carolyn Radcliff, Chair of Public Services at the Leatherby Libraries.
Major
Music: Vocal Emphasis; Law, Justice, and Social Control Minor
Title of Entry
From a Chat in the Parlor to Viral Music Videos: An Analysis of Music as a Social Occasion
Supporting Faculty
Dr. Jessica Sternfeld
Research Description
Ms. Plotnik started the project with the idea that the advancement of technology has been instrumental in the decline of salon life. She recreated the salons of the past in an online discussion forum titled Music Soirée. During the course of the experiment, Ms. Plotnik discovered that participants in the online salon were more passive than active, interacting as readers rather than commenters. As a result of this ten-week project, she intends to facilitate an in-person salon to evaluate the differences between a traditional salon and its modern cyber-version.
Essay on the Research Process and Use of the Library
Ms. Plotnik used many of the library's databases, such JSTOR, ProQuest, RILM Abstracts of Music Literature, and Academic Search Premier. In addition to attending several information literacy sessions, she worked with Taylor Greene, Performing Arts Librarian, to learn the skills of applying Boolean operators and field limits. During the research process, she used the Music Research Guide to find other blogs. Ms. Plotnik feels that the precision that she learned during this project has developed her attention to detail, which aided her during her marketing research internship at the Casa Romantica Cultural Center and Gardens and will continue to enhance her value in the workplace.