Preview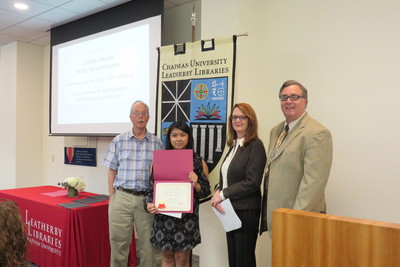 Description
Third place winner Kristine Avena (second from left), with (from left to right), Dr. Leland Esters, Kristine's faculty mentor; Kevin Ross, contest co-sponsor and Associate Dean of the Leatherby Libraries; and Carolyn Radcliff, Chair of Public Services at the Leatherby Libraries.
Major
History/Political Science
Title of Entry
"The Good of the Country Rises Above Party": Roosevelt, La Guardia, and O'Connor and the Works Progress Administration in New York City During the Great Depression
Supporting Faculty
Dr. Leland Estes
Research Description
Ms. Avena posits that the new federal program of the Works Progress Administration brought forth a different era of politics. Her paper examines the emergence of ideology over party in the political decisions and policy-making of Roosevelt, LaGuardia, and O'Connor during the Great Depression.
Essay on the Research Process and Use of the Library
Ms. Avena began her research two years ago by accessing the Frank Mt. Pleasant Library of Special Collections and Archives online to view primary documents. She expanded her search to other collections and databases, such as the LaGuardia Papers and ProQuest Congressional, based on suggestions from Rand Boyd, Coordinator of Special Collections & Archives. Ms. Avena also made effective use of two of the Leatherby Libraries' historical newspaper databases: The New York Times and The Wall Street Journal. Furthermore, obtaining materials through Interlibrary Loan allowed her to retrieve both primary and secondary sources from other libraries, which helped lay the foundation of background information needed to explore her topic. Learning how to balance arguments is a skill that Ms. Avena will take forward when she performs research in law school.