Preview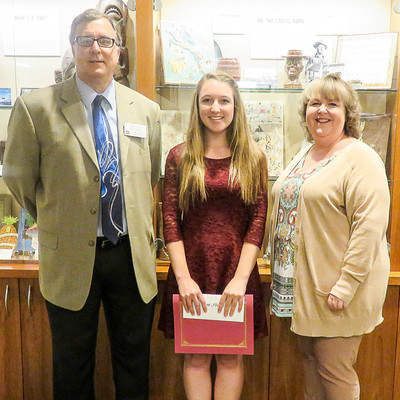 Description
First place winner Talia Cain, with Kevin Ross, contest co-sponsor and Associate Dean of the Leatherby Libraries and Anne Steketee, Talia's faculty mentor.
Major
Integrated Educational Studies / English
Title of Entry
Critical Media Literacy: Liberating the "Criminal" and Empowering African American Males
Supporting Faculty
Anne Steketee
Research Description
Ms. Cain's paper explored how media contributes to the perceived criminalization of African American males and its effect on students in a school setting. Her research infers that, as a result of media representations, many African America students have internalized negative representations and see themselves as only capable of deviance and criminality. Ms. Cain advocates for the use of critical media pedagogy as a means of deconstructing the media's message and as a way to reverse the negative expectations placed upon African Americans.
Essay on the Research Process and Use of the Library
Ms. Cain's process began with an interdisciplinary approach accessing various Leatherby Libraries databases such as JSTOR, Academic Search Premier, PsycINFO, ERIC, and Criminal Justice Abstracts. She discovered that the best results were retrieved by pairing subject terms and used the advanced search capability that allowed for the application of equivalent terms to expand the results. Ms. Cain was judicious in her evaluation and rejected articles with small sample sizes or qualitative, non-generalizable methods. For this project, she relied on the knowledge that she gained through previous library sessions. Ms. Cain intends to use the skills she honed during this project to continue to be a thought-provoking scholar promoting social change.