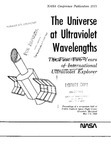 Files
Description
As part of a program to observe circumstellar emission from late type stars, IUE observations of R Aqr (M7 + pec) have been obtained in low dispersion. Strong permitted, semi-forbidden and forbidden emission lines are seen, superimposed on a bright ultraviolet continuum. We deduce that the strong emission line spectrum that involves C III], C IV, Si III], [0 II] and [0 lll] probably arises from a dense compact nebula the size of which is comparable to the orbital radius of the binary system of which R Aqr is the primary star. The low excitation emission lines of Fe II, Mg II, 0 1 and Si II probably arise in the chromosphere (T_IO,O00 K) of the R Aqr. The secondary is probably a white dwarf, comparable to or somewhat brighter than the sun, since such a star can produce enough ionizing photons to excite the continuum and emission line spectrum and yet be sufficiently faint as to escape detection by direct observation. We attribute the UV continuum to Balmer recombination from the dense nebula and not to blackbody emission from the hot companion.
Keywords
IUE, International Ultraviolet Explorer, R Aqr, late type stars, emission lines, UV, ultraviolet, binary stars, nebula
Disciplines
Instrumentation | Stars, Interstellar Medium and the Galaxy
Recommended Citation
Hobbs, R.W., Michalitsianos, A.G., Kafatos, M. (1981) IUE Observations of Circumstellar Emission from the Late Type Variable R Aqr (M7 + pec). In R.D. Chapman (Ed.), The Universe at Ultraviolet Wavelengths: the First Two Years of International Ultraviolet Explorer. Proceedings of a symposium held at NASA Goddard Space Flight Center, Greenbelt, MD, May 7-9, 1980 (pp. 355-365).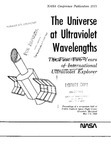 COinS