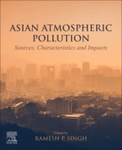 Sources of Atmospheric Pollution in India
In Ramesh P. Singh (Ed.), Asian Atmospheric Pollution: Sources, Characteristics and Impacts.
This text is only partially available through the link provided; some pages are not included. Please visit your local library or purchase the book through the "Buy This Book" link above to read the full text.
Description
India with 28 states and 8 union territories has diversified weather conditions, and is a home to 1.389 billion people. India is surrounded by the Bay of Bengal in the east, the Arabian Sea in the west, and the Indian Ocean in the south. In the northern part, the Indo-Gangetic Plain (IGP) lies between the Indian shield and the Himalayan region. The IGP is one of the agriculturally productive regions with fertile land and good groundwater resources. About 900 million people live in the IGP, the westerly winds are dominant in the northern parts, which brings pollutants from the neighboring countries and the outflow from the IGP reaches over Bangladesh and beyond. The outflow of pollutants also reaches toward the Himalayan regions and the pollutants especially at the time of forest fires impact the IGP region. The northern flank of India is surrounded by the towering Himalayas. The western part is adjacent to the neighboring country Pakistan, and between IGP and the eastern side, Bangladesh is located. In the northern part of India including IGP, all the four seasons (winter, summer, monsoon, and premonsoon) with contrasting weather conditions are observed. The region experiences extreme weather conditions, and all the major cities are known for high atmospheric pollution and poor air quality throughout the year and contrasting seasonal differences. In this chapter, an overview of atmospheric pollution and poor air quality and their dynamics are presented.
This paper has been withdrawn.