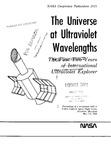 Files
Description
IUE observations of two late type stars BX Mon and TV Gem have been obtained that reveal the emission properties in the ultraviolet of subluminous companions. Analysis of the continuum emission observed from BX Mon suggests the companion is a middle A III star. High excitation emission lines observed between 1200 A and 2000 A (C IV, Si Ill], C III ) that generally do not typify emission observed in either late M type variables or A type stars are also detected. It is suggested that these strong high-excitation lines arise in a large volume of gas heated by non-radiation processes that could be the result of tidal interaction and mass exchange in the binary system. In contrast to stars such as BX Mon that are observed in the visible to have emission lines superimposed on the strong absorption of the M giant_ the luminous MI supergiant TV Gem shows unexpected intense UV continuum throughout the sensitivity range of IUE. The UV spectrum of TV Gem is characterized by intense continuum with broad absorption features detected in the short wavelength range. Our analysis shows that the companion could be a B9 or A1 Ill-IV star, although a fully self-consistent model including the observed color index has as yet not been fully developed. Alternate suggestions are presented for explaining the UV continuum in terms of an accretion disk in association with TV Gem.
Keywords
IUE, International Ultraviolet Explorer, ultraviolet, UV, BX Mon, TV Gem, late type stars
Disciplines
Instrumentation | Stars, Interstellar Medium and the Galaxy
Recommended Citation
Michalitsianos, A.G., Hobbs, R.W., Kafatos, M. (1981) IUE Observations of Two Late Type Stars BX Mon (M4 + pec) and TV Gem (M1 lab). The Universe at Ultraviolet Wavelengths: the First Two Years of International Ultraviolet Explorer. Proceedings of a symposium held at NASA Goddard Space Flight Center, Greenbelt, MD, May 7-9, 1980 (pp. 367-375).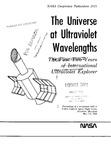 COinS