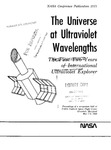 Files
Description
One of the major results from the IUE may prove to be the new knowledge gained by studies of the ultraviolet spectra of symbiotic stars. Symbiotics combine spectral features of a cool M giant-like photosphere with strong high excitation emission lines of nebular origin, superposed. An excellent pre-UV review has been given by Swings (i). The UV spectra are dominated by intense permitted and semi-forbidden emission lines and weak continua indicative of hot compact objects and accretion disks. Two symbiotics, AR Pay and CI Cyg are thought to be eclipsing binaries, and we have begun IUE observations during the predicted 1980 eclipse of CI Cygni.
Keywords
IUE, International Ultraviolet Explorer, ultraviolet, UV, CI Cigni, eclipse, symbiotic stars
Disciplines
Instrumentation | Stars, Interstellar Medium and the Galaxy
Recommended Citation
Stencel, R.E., Michalitsianos, A.G., Kafatos, M., Boyarchuk, A.A. (1981) Ingress observations of the 1980 eclipse of the symbiotic star CI Cygni. In R.D. Chapman (Ed.), The Universe at Ultraviolet Wavelengths: the First Two Years of International Ultraviolet Explorer. Proceedings of a symposium held at NASA Goddard Space Flight Center, Greenbelt, MD, May 7-9, 1980 (pp. 459-460).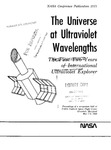 COinS