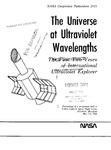 Files
Description
The Crab Nebula is marginally observable with the IUE. Observations of the optically brightest filamentary regions, made with IUE in August 1979, show the C IV x1549, He II x1640, and C III] x1909 emission lines. The intensities of these lines have been compared with visual-wavelength data. It appears that carbon is not overabundant in the Crab; carbon/- oxygen is approximately "normal" oxygen is slightly scarcer than "normal" as a fraction of the total mass.
Keywords
Crab Nebula, IUE, International Ultraviolet Observer, UV, ultraviolet, carbon, oxygen
Disciplines
Instrumentation | Stars, Interstellar Medium and the Galaxy
Recommended Citation
Davidson, K., Gull, T.R., Maran, S.P., Stecher, T.P., Kafatos, M., Trimble, V.L. (1981) Preliminary report on IUE Spectra of Crab Nebula. In R.D. Chapman (Ed.), The Universe at Ultraviolet Wavelengths: the First Two Years of International Ultraviolet Explorer. Proceedings of a symposium held at NASA Goddard Space Flight Center, Greenbelt, MD, May 7-9, 1980 (pp. 693-700).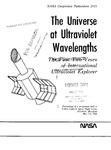 COinS