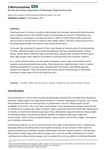 Title
Description
Libertarianism is a theory in political philosophy that strongly values individual freedom and is skeptical about the justified scope of government in our lives. Libertarians see individuals as sovereign, as people who have a right to control their bodies and work, who are free to decide how to interact with willing others, and who cannot be forced to do things against their will without very strong justification.
For some, the argument in support of this view hinges on the principle of self-ownership. To them, individual rights are morally foundational, the basic building blocks of their theory. Many others, however, take a broader view, arguing that societies flourish when they offer people large degrees of freedom in both personal and economic matters.
As a result, libertarianism sees the state as playing at most only a very limited role in matters concerning distributive justice. Libertarians are skeptical about calls to reduce material inequality for its own sake, strongly favor free trade, and defend opening borders for migrants. They see policies that violate these commitments as inevitably involving wrongs against free and equal persons.
Publication Date
12-19-2017
Publisher
Oxford University Press
Keywords
freedom, rights, self-ownership, equality, capitalism, free market, Robert Nozick
Disciplines
Ethics and Political Philosophy | Other Political Science | Philosophy | Political Theory
Copyright
Oxford University Press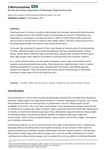 COinS