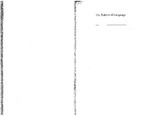 Description
This book is a study of the power of language -- the way the words we use both reflect and mold the way we think. In particular, it focuses on the development of the word "liberal" in the United States, as a symbol of the politics of language.
Publisher
University of Iowa Press
Keywords
liberalism, American politics, symbolism in politics, political language
Disciplines
American Politics
Recommended Citation
Rotunda, Ronald. The Politics of Language: Liberalism as Word and Symbol. Iowa City, IA: University of Iowa Press, 1986. Web.
Copyright
Copyright reverted to Ronald Rotunda in 2011.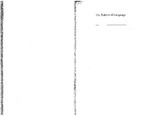 Included in
COinS