Creator
Carl Louis Gregory, 1125 16th Street South, Arlington, VA.
Preview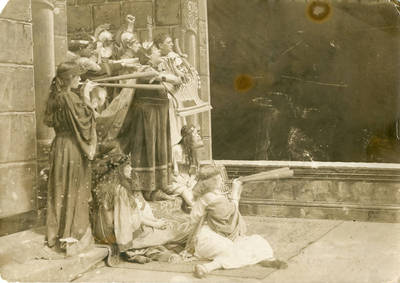 Identifier
2005002r_E-77_Edison_Production_Still_Story_Of_Rome_1908
Subject—Topics
Silent films; Motion pictures; Edison Company; Actors
Description
Production still for the Edison film "Story of Rome," 1908. It was directed by Edwin S. Porter, who made "The Great Train Robbery." The black space is where a miniature set of burning Rome was later introduced by trick photography.
Format
BW photograph, sepia tone, 4.5" x 6.5"
Source
Jonathan Silent Film Collection