Creator
Carl Louis Gregory, 1125 16th Street South, Arlington, VA.
Preview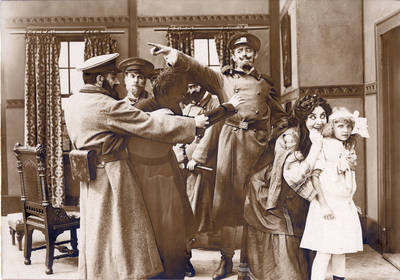 Identifier
2005002r_E-63d_From_Tyranny_to_Liberty_1910
Subject—Topics
Silent films; Motion pictures; Edison Company; Actors; MacDermott, Marc; Fuller, Mary; Lessey, George; Pilar-Morin, Madame
Description
Production still from the Edison silent film "From Tyranny to Liberty," 1910. Madame Pilar-Morin holds Mary Fuller at the right while Marc MacDermott gestures in the center, George Lessey is behind two soldiers at the left.
Format
BW photograph, sepia tone, 4.5" x 6.5"
Source
Jonathan Silent Film Collection