Creator
Baker, William H.
Preview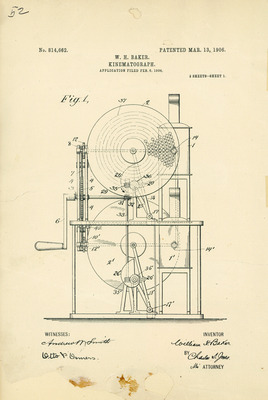 Identifier
P-12-01_Patent_814,662_sheet_1
Subject—Names
Baker, William H.
Subject—Topics
Kinematograph; Motion pictures; Sound recordings; Home theatre
Description
Patent #814,662, United States Patent Office, original printing, Patented Mar. 13, 1906. William H. Baker of Central Falls, Rhode Island Kinematograph. Application filed February 6, 1904, Serial No. 192,311. Text pages 1-4 present; 3 sheets of diagrams. Diagram sheet 1.
Format
BW printed document; 11" x 7.75"
Source
Jonathan Silent Film Collection
Publisher
United States Patent Office