Creator
Berndt-Bach, Inc.
Preview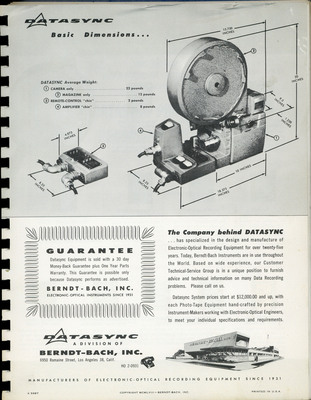 Identifier
MPE-088-01_Datasync_phototape_recording
Subject—Names
Berndt-Bach, Inc.
Subject—Topics
Photo-tape recording systems; Motion pictures; Electronic-optical equipment
Description
Instruction book: Datasync Phototape Recording Systems. Datasync, a division of Berndt-Bach, Inc. 6950 Romaine St. Los Angeles 38, California. Copyright MCMLIX, Berndt-Bach, Inc. [First printing February, 1959] Page with promotion for Datasync scanned.
Format
Print, BW with blue cover; 11.5" x 9"
Source
Jonathan Silent Film Collection
Publisher
Berndt-Bach, Inc.