Preview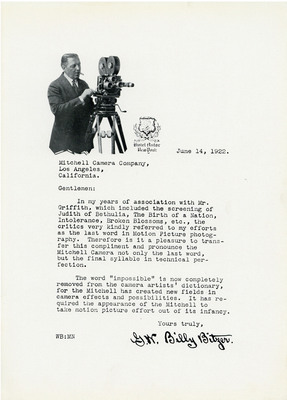 Identifier
MPE-015-04_Billy_Bitzer_testimonial
Subject—Names
Bitzer, Billy; Mitchell Camera Corporation; Griffith, D. W.
Subject—Topics
Motion picture equipment; Motion picture cameras; Cinematographers
Description
Advertisement: Mitchell Motion Picture Camera, Mitchell Camera Corporation, 665 North Robertson Blvd., West Hollywood, California. Loose pages advertising the camera with testimonials were included with Mitchell catalog. This is one featuring Billy Bitzer with Mitchell Camera, and letter dated June 14, 1922 praising the Mitchell Camera [he was a pioneering cinematographer noted for his work with D. W. Griffith].
Format
BW print; 10.5" x 7.5"
Source
Jonathan Silent Film Collection
Publisher
Mitchell Camera Corporation