Preview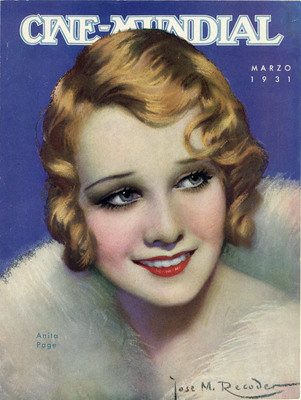 Identifier
2005002r_JCA-055-01_cover_Cine-Mundial_March_1931
Subject—Names
Cine-Mundial; Page, Anita; Recoder, Jose M.
Subject—Topics
Motion pictures; Magazines; Actors; Spanish
Description
Magazine cover: Cine-Mundial, March, 1931. Features an illustration of Anita Page by artist Jose M. Recoder. Cine-Mundial was the Spanish language version of Moving Picture World 1916-1948.The magazine documented Hollywood's growing dominance in Latin American markets in the 1920s and the emergence of national film industries, such as those of Mexico and Argentina after the introduction of sound film. It was both a trade publication and fan magazine.
Format
Color offset lithography; 12" x 9"
Source
Jonathan Silent Film Collection