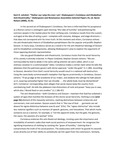 Description
In the second act of Shakespeare's Coriolanus, the hero is informed that his acceptance as a Roman consul is dependent upon donning the robe of humility and petitioning the common people in the market-place for their ratifying vote. Coriolanus recoils from the custom, outraged at the idea of acting a part—complete with costume, dialogue, and stage directions— that does not correspond with his inner truth. At this moment and others, Coriolanus echoes the anti-theatricalist rhetoric of Elizabethan pamphleteers like the popular and prolific Stephen Gosson. In many ways, Coriolanus serves as a stand-in for the anti-theatrical ideology of Gosson and his Elizabethan contemporaries, allowing Shakespeare's play to explore the arguments of those opposing dramatic representation.
Publisher
Shakespeare and Renaissance Association
Keywords
William Shakespeare, Shakespeare's plays, Coriolanus, anti-theatricality, Elizabethan England, pamphleteers
Disciplines
Dramatic Literature, Criticism and Theory | Literature in English, British Isles | Theatre History
Recommended Citation
Lehnhof, Kent. "'Rather say I play the man I am': Shakespeare's Coriolanus and Elizabethan Anti-theatricality," Shakespeare and Renaissance Association Selected Papers 23, ed. Byron Nelson (2000), 31-41.
Copyright
Shakespeare and Renaissance Association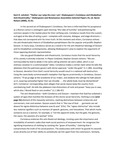 COinS