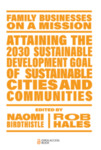 Description
"Wolf Connection is a wolf sanctuary located on the outskirts of a rural town, Acton, California, nestled in the Angeles National Forest. The sanctuary consists of 165 acres of stunning woodland and high desert mountains, including a year-round stream. It is located within a one-hour drive from Los Angeles. Wolf Connection runs a series of programmes based around issues of mental health, addressing social and economic inequality, and providing strategies for resilience and well-being. Wolf Connection identifies the following as its core business activities: Providing Animal Rescue and Wildlife Preservation; At-Risk Youth Education and Empowerment; Community Empowerment; and Environmental Awareness and Sustainability (see Fig. 1 for one of the wolves at Wolf Connection). This chapter examines these activities as they reflect the UN's SDG#11."
Publication Date
8-29-2023
Publisher
Emerald Publishing
Disciplines
Environmental Health and Protection | Other Life Sciences
Recommended Citation
Fuery, P. and Fuery, K. (2023), "USA: Wolf Connection and Inclusive, Safe Spaces for All", Birdthistle, N. and Hales, R. (Ed.) Attaining the 2030 Sustainable Development Goal of Sustainable Cities and Communities (Family Businesses on a Mission), Emerald Publishing Limited, Bingley, pp. 55-77. https://doi.org/10.1108/978-1-80455-836-220231005
Copyright
Chapter: The authors. Editorial material: The editors.
Creative Commons License


This work is licensed under a Creative Commons Attribution 4.0 License.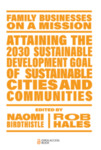 COinS