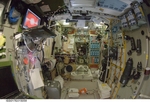 Description
The explicit goal of the International Space Station Archaeological Project (ISSAP) is to provide an understanding of material culture as a key component of life in space, on par with the research by biomedical and psychological scholars that has been ongoing since the 1960s. We take as our inspiration a phrase first used in the National Academy of Sciences report Human Factors in Long-Duration Spaceflight, which described a crewed spacecraft as "a microsociety in a miniworld" (Lindsley 1972, 23). One of our primary methods is the cataloguing of people and elements of material culture (objects and built spaces) from photographs taken during ISS missions, or "Expeditions," as they are known (Walsh and Gorman 2021). We use photos because we are unable to visit ISS and observe it directly as archaeologists. The data for this study consists of a series of 48 historic photographs dating between November 2000 (Expedition 1, the beginning of habitation of ISS) and April 2014 (Expedition 39) which depict life in the Russian Zvezda module. This survey forms the first systematic investigation of the material culture of a space habitat. The photographs provide an extraordinary window on the lives, activities, beliefs, and interests of ISS crew. In this study, we focus on practices of visual display. The items crew members use to adorn the station walls alter the visual experience of the interior, provide a personal and earthly touch in the space machine environment, and say something about the values of the crew. It is also a material practice which sheds light on the evolution of a space culture.
We catalogued 414 instances of 75 unique items on display in the 48 photographs. All of the images were accessed from NASA's Johnson Space Center public Flickr account (NASA 2020). Each photo was chosen because it showed some change in the configuration of items in the aft space of Zvezda, relative to earlier images. The locations of the items were also recorded, so that their appearance, disappearance, movement, and relationships to other items and the general area could be assessed.
Related Publications
Lindsley, Donald B. 1972. 'Summary and Major Recommendations.' In Human Factors in Long-Duration Spaceflight. National Research Council. Washington, DC: The National Academies Press, pp. 15-30. https://doi.org/10.17226/12387,
Salmond, Wendy, Justin St. P. Walsh and Alice C. Gorman 2020, 'Eternity in Low Earth Orbit: Icons on the International Space Station', Religions, vol. 11, p. 611, https://doi.org/10.3390/rel11110611.
Publication Date
1-27-2021
Keywords
Space archaeology, Space stations, International Space Station, Religion
Disciplines
Art and Design | Christian Denominations and Sects | Christianity | Interior Architecture | Modern Art and Architecture | Other Architecture | Other Religion | Slavic Languages and Societies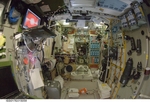 COinS