Preview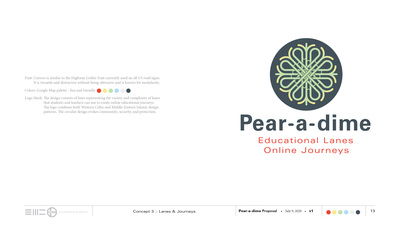 Description
I was approached to help with Brand, Logo, and Website Development for Pear-a-dime. The copywriting was done by Ron Archer and the WordPress web design and programming was done by Aimee Bowen.
The company was born out of the Covid Pandemic and was committed to helping make intelligent choices while lessoning the pain for all (parents, students, teachers, and school administrators - especially as it related to on-line learning and LMS choices.
The logo direction the client settled on can be seen above, and our rational can be read below.
Examining the processes teachers use to unfold knowledge and skills to their students, we noticed similarities to mapmaking.
Excellent teachers, ferrying students from educational Point A to Point B, must take into consideration the varied abilities and motivational speed limits of their students. They also need to provide several lanes (and detours) students can take to motor toward new knowledge or skills.
But what about the traffic jam of digital resources available for teachers today?
They certainly increase the potential number of paths teachers can design, but how can teachers get some roadside assistance to keep them from choosing resources that lead to an educational dead end or be lured by a shiny paint job, but find nothing under the hood?
We also noticed that the subject-specific lanes that students travel over the school years, especially when given appropriate digital resources, route an amazing and effective online learning journey that will hopefully pave the way to a lifetime of insight.
What follows are the 3 conceptual directions that were created and considered as well as the final website as delivered to the customer.