Preview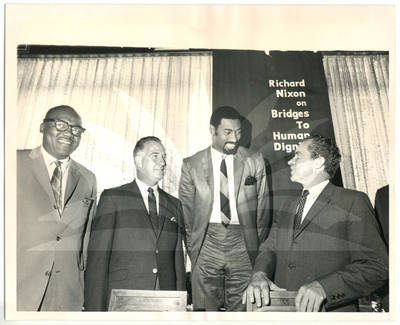 Identifier
35160004354321
Subject—Names
Nixon, Richard M.
Subject—Topics
Presidents--United States--Election--1968
Description
Mission Bay, Calif: At what is surely a high point in the Nixon presidential campaign, Republican nominee Richard M. Nixon (R) casts an upward glance at one of his supporters, towering basketball star Wilt Chamberlain, here August 27th. Looking on is vice presidential nominee Gov. Spiro T. Agnew of Maryland. Nixon and Agnew met with a group of Black Capitalist leaders at Nixon's hotel.
Format
BW Photograph, 10" x 8"
Source
United Press International