Preview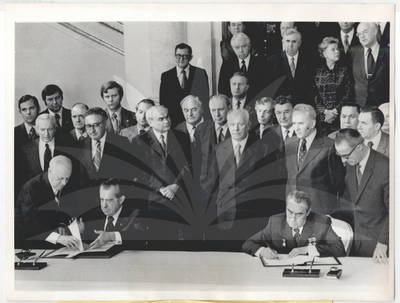 Identifier
35160004355500
Subject—Names
Nixon, Richard M.
Subject—Places
Soviet Union
Subject—Topics
Soviet Union--Politics and government
Description
Moscow: With Kremlin leaders and American officials looking on, Communist Party Chairman Leonid Brezhnev (R, seated) signs one of several agreements he and President Nixon worked out during their seven-day summit meeting while Nixon (L, seated) gets help from an aide in finding the correct page. Behind Nixon is Secretary of State Henry Kissinger. Behind Brezhnev are Nikolai Podgorny, Premier Alexei Kosygin, and Foreign Minister Andrei Gromyko.
Format
BW Photograph, 11" x 8.5"
Source
United Press International