Title
Preview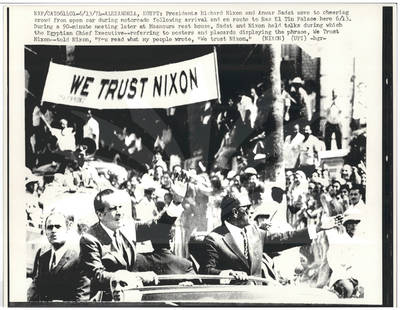 Identifier
35160004355674
Subject—Names
Nixon, Richard M.
Subject—Places
Middle East
Subject—Topics
Middle East--Politics and government--20th century
Description
Alexandria, Egypt: Presidents Richard Nixon and Anwar Sadat wave to cheering crowd from open car during motorcade following arrival and en route to Ras El Tin Palace here 6/13. During a 90-minute meeting later at Maamoura rest house, Sadat and Nixon held talks during which the Egyptian Chief Executive -- referring to posters and placards displaying the phrase, We Truat Nixon -- told Nixon, 'You read what my people wrote, 'We trust Nixon.'
Format
BW Photograph, 11" x 8.5"
Source
United Press International