Preview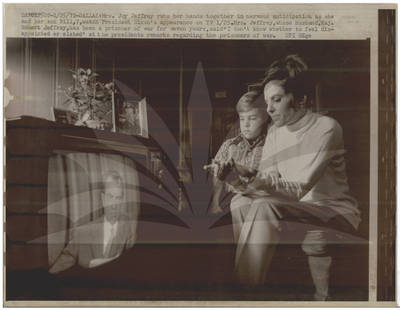 Identifier
35160004355047
Subject—Names
Nixon, Richard M.
Subject—Places
Vietnam; Southeast Asia
Subject—Topics
Vietnam War, 1961-1975
Description
Dallas: Mrs. Joy Jeffrey rubs her hands together in nervous anticipation as she and her son Bill, 7, watch President Nixon's appearance on TV 1/25. Mrs. Jeffrey, whose husband, Maj. Robert Jeffrey, has been a prisoner of war for seven years, said 'I don't know whether to feel disappointed or elated' at the President's remarks regarding the prisoners of war.
Format
BW Photograph, 11" x 8.5"
Source
United Press International