Preview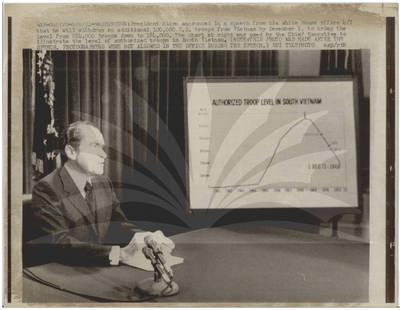 Identifier
35160004355112
Subject—Names
Nixon, Richard M.
Subject—Places
Vietnam; Southeast Asia
Subject—Topics
Vietnam War, 1961-1975
Description
Washington: President Nixon announced in a speech from his White House office 4/7 that he will withdraw an additional 100,000 U.S. troops from Vietnam by December 1, to bring the level from 284,000 troops down to 184,000. The chart at right was used by the Chief Executive to illustrate the level of authorized troops in South Vietnam. (NOTE: THIS PHOTO WAS MADE AFTER THE SPEECH. PHOTOGRAPHERS WERE NOT ALLOWED IN THE OFFICE DURING THE SPEECH.)
Format
BW Photograph, 11" x 8.5"
Source
United Press International