Preview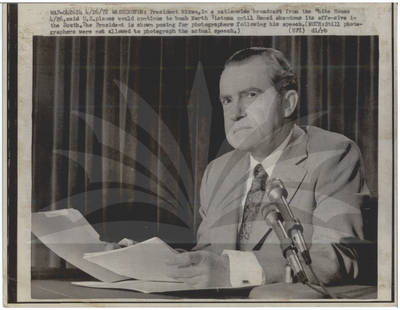 Identifier
35160004355393
Subject—Names
Nixon, Richard M.
Subject—Places
Vietnam; Southeast Asia
Subject—Topics
Vietnam War, 1961-1975
Description
Washington: President Nixon, in a nationwide broadcast from the White House 4/26, said U.S. planes would continue to bomb North Vietnam until Hanoi abandons its offensive in the South. The President is shown posing for photographers following his speech. (NOTE: Still photographers were not allowed to photograph the actual speech.)
Format
BW Photograph, 11" x 8.5"
Source
United Press International