Preview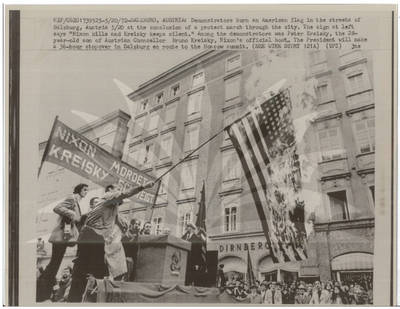 Identifier
35160004354826
Subject—Names
Nixon, Richard M.
Subject—Places
Vietnam; Southeast Asia
Subject—Topics
Vietnam War, 1961-1975
Description
Salzburg, Austria: Demonstrators burn an American flag in the streets of Salzburg, Austria 5/20 at the conclusion of a protest march through the city. The sign at left says Nixon kills and Kreisky keeps silent." Among the demonstrators was Peter Kreisky, the 28-year-old son of Austrian Chancellor Bruno Kreisky, Nixon's official host. The President will make a 36-hour stopover in Salzburg en route to the Moscow summit."
Format
BW Photograph, 11" x 8.5"
Source
United Press International