Preview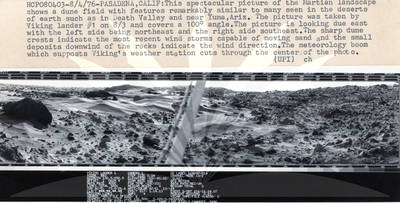 Identifier
35160004242476
Subject—Topics
Mars (Planet)--Exploration.
Description
This spectacular picture of the Martian landscape shows a dune field with features remarkably similar to many seen in the deserts of earth such as in Death Valley and near Yuma, Arizona. The picture was taken by Viking lander #1 on 8/3 and covers a 100 degree angle. the picture is looking due east with the left side being northeast and the right side southeast. The sharp dune crests indicate the most recent wind storms capable of moving sand and the small deposits downwind of the rocks indicate the wind direction. The meteorology boom which supoosts Viking's weather station cuts through the center of the photo.
Format
Black and White Photograph, 7" x 9"
Source
United Press International
Keywords
UPI, United Press International
COinS