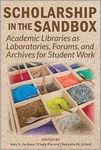 Description
"The Leatherby Libraries at Chapman University started its research prize contest for undergraduate students in 2007. Having reached the tenth anniversary of the contest, we are well positioned to reflect on how the contest has changed in concert with new ways of inquiry and information creation and on its role in supporting and honoring student research. A decade of experience has taught us how to diversify the contest and reflect collectively on its merits. In this chapter, we present a case study of how the Kevin and Tam Ross Undergraduate Research Prize (URP) recognizes and honors student scholarship. We explain the goals and processes of the contest and discuss the partnership elements that make the URP contest successful. A student contestant and a contest benefactor coauthor this chapter, enabling a forum with rich and diverse perspectives on the benefits of the competition. The reflection by student Talia Cain, presented in part above, underscores how the process of conducting research has contributed to the development of her scholarly identity."
Publisher
Association of College and Research Libraries
Disciplines
Higher Education | Information Literacy | Other Education | Scholarly Publishing
Recommended Citation
Ross, K., Radcliff, C., & Cain, T. (2019). Celebrating student scholarship with an undergraduate research prize. In A. S. Jackson, C. Pierard, & S. M. Schadl (Eds)., Scholarship in the Sandbox: Academic Libraries as Laboratories, Forums, and Archives for Student Work (pp. 129-146). Chicago, IL: Association of College and Research Libraries.
Creative Commons License


This work is licensed under a Creative Commons Attribution 4.0 License.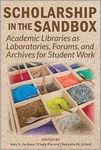 COinS