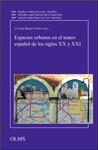 Description
"En esta investigación se explora el metro como un espacio teatral único y laberíntico. El metro se revela como un espacio ambiguo: es un lugar brindado con la capacidad de fomentar relaciones amorosas y transformativas entre los seres humanos; a la vez se concibe como un sitio condenado a destruir lazos personales al fomentar comportamientos de decepción y violencia aplastando cualquier esperanza para el espíritu humano. El metro, como espacio urbano recóndito y específicamente localizado bajo la tierra, con sus connotaciones que giran alrededor de la oscuridad, la clandestinidad, el secreto, el misterio y el crimen, es el escenario laberíntico ideal para representar la condición humana."
Publisher
Georg Olms Verlag AG
Disciplines
Dramatic Literature, Criticism and Theory | Other Theatre and Performance Studies | Spanish Literature
Recommended Citation
Hodge, Polly J. "El metro en el teatro y el teatro en el metro: un escenario laberíntico de múltiples velocidades." In Espacios urbanos en el teatro español de los siglos XX y XXI. Edited by Cerstin Bauer-Funke, Georg Olms Verlag AG, 2016, pp. 163-176.
Copyright
Georg Olms Verlag AG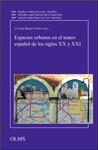 COinS