Creator
Carl Louis Gregory, 1125 16th Street South, Arlington, VA.
Preview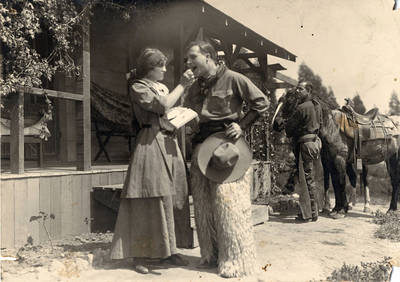 Identifier
2005002r_T-091_Western_La_Badie_Garwood
Subject—Topics
Thanhouser Company; Silent films; For the Man She Loved; LaBadie, Florence; Garwood, William
Description
Production still from the Thanhouser silent fim "For the Man She Loved," release July 8, 1913. Scene showing the rival, played by Ernest C. Joy, watching Florence LaBadie and William Garwood. Noted by Carl Louis Gregory on verso: "Florence LaBadie - William Garwood - principals - An early horse opera taken in Hollywood."
Format
BW photograph; 4.75" x 6.75"
Source
Jonathan Silent Film Collection