Creator
Farmum, William C.
Preview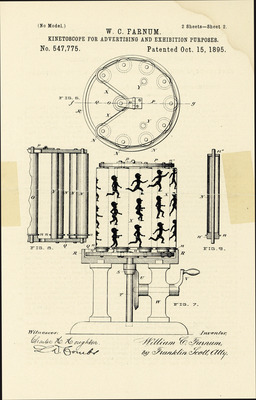 Identifier
P-08-02_Patent_547,775_sheet_2
Subject—Names
Farnum, William C.
Subject—Topics
Kinetoscope; Motion pictures; Advertising
Description
Patent #547,775, original printing, U. S. Patent Office, Patented Oct. 15, 1895. Kinetoscope For Advertising and Exhibition Purposes. William C. Farnum, of Arlington, Vermont. Application filed September 26, 1894. Serial No. 524, 146. 2 diagram pages and 3 text pages. (No model.) Page two diagram sheet.
Format
BW printed document; 11.25" x 7.75"
Source
Jonathan Silent Film Collection
Publisher
United States Patent Office