Creator
RCA Victor Company
Preview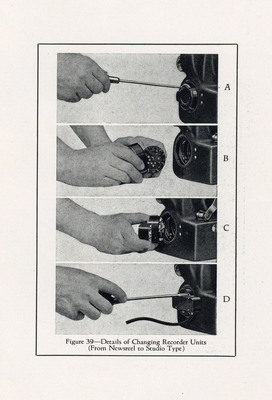 Identifier
MPE-087-02_Changing_recorder_units
Subject—Names
RCA Victor Company, Inc.
Subject—Topics
Sound recording cameras; Instruction books; 16 mm motion picture cameras
Description
Instruction book and service notes for the RCA Sound Recording 16 mm Camera, newsreel type, studio type, preliminary edition, July, 1934. RCA Victor Company, Inc., Camden, N. J., U. S. A. This is Figure 39 – details of changing units from newsreel to studio type.
Format
Printed; 11.25" x 8.75"
Source
Jonathan Silent Film Collection
Publisher
RCA Victor Company