Preview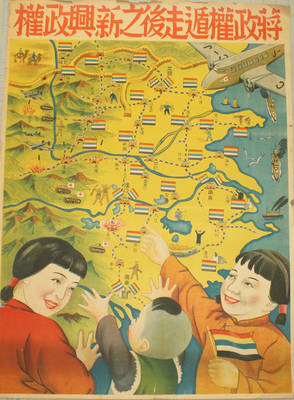 Subject—Topics
World War II; Propaganda
Description
Propaganda poster, in Chinese, produced by Japanese-sponsored governments in China during Sino-Japanese War (1937-1945). These governments were established by major Japanese military commands, and posters were used to promote cooperation between Chinese and Japanese. English translation is "Establishment of new regime after Chiang's withdrawal [to Chongqing]." Chinese: 蔣政權遁走後之新興政權. In 1937, Chiang Kai Shek accepted Bai Chong Xi's suggestion – "trading space for time" and moved the Nationalist government to Chongqing.
Contributors
Translations made by Wenling Tseng, M.L.S.
Format
Color Poster, 29 1/2" x 21 1/2"