Preview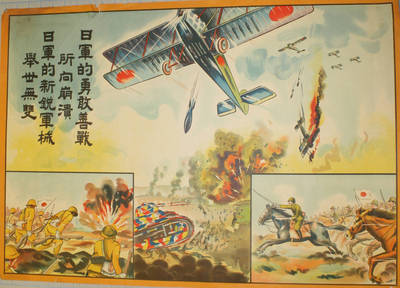 Subject—Topics
World War II; Propaganda
Description
Propaganda poster, in Chinese, produced by Japanese-sponsored governments in China during Sino-Japanese War (1937-1945). These governments were established by major Japanese military commands, and posters were used to promote cooperation between Chinese and Japanese. English translation is "Valiant Japanese soldiers are invincible in battle, advanced Japanese weaponry is the most dominant in the world." Chinese: 日軍的勇敢善戰所向崩潰,日軍的新銳軍械舉世無雙.
Contributors
Translations made by Wenling Tseng, M.L.S.
Format
Color Poster, 31" x 21"