Preview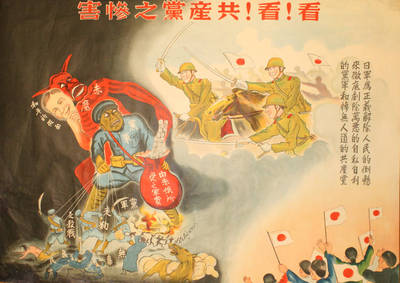 Subject—Topics
World War II; Propaganda
Description
Propaganda poster, in Chinese, produced by Japanese-sponsored governments in China during Sino-Japanese War (1937-1945). These governments were established by major Japanese military commands, and posters were used to promote cooperation between Chinese and Japanese. English translation is: "Look at the communist atrocity!" Chinese: 看!看!共產黨之慘害!In small letters, English translation is "The just Japanese Army liberates people from atrocity and eradicates the evil and selfish Communist Amy and the ruthless Communist Party." Chinese: 日軍為正義解除人民的倒懸來徹底剷除萬惡的自私自利的黨軍和慘無人道的共產黨.
Contributors
Translations made by Tanya Cao, M.L.S., M.A.B.
Format
Color Poster, 40" x 30"