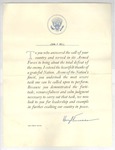 Files
Download
Download Correspondence (279 KB)
Document Type
Service Document
Keywords
United States; army; soldiers; troops; ephemera; thoughts on the enemy; patriotism; peace; Truman, Harry S.; President Truman; Harry S. Truman; leadership; propaganda; eagle; American eagle; weapons; Washington, D.C.
Subject Terms
Jack P. Bell; President Harry S. Truman; World War, 1939 - 1945; World War II; World War Two; United States; War and Civilization -- History -- 20th Century; United States. Army; Nineteen Forties; World War, 1939 -- 1945 -- Soldiers; World War, 1939 -- 1945 -- Veterans; World War, 1939 -- 1945 -- Patriotism
Identifier
2014.160.w.r_Bell_worldwartwo_1946-miss-miss_008
Recommended Citation
Bell, Jack P., "Presidential Service Letter" (1946). Jack P. Bell Second World War correspondence. 655.
https://digitalcommons.chapman.edu/bell_collection/655
Copyright
The Center for American War Letters Archives promotes open access to its collections for "private study, scholarship, or research" subject to the intellectual property rights of others. Chapman University may not hold copyright or intellectual property rights to all items in the collections, and contents may be subject to restricted access or use. As a condition of accessing and using material from the Archives, you agree that you are responsible for obtaining all required consents of any copyright holder and to indemnify and hold the University harmless from and against any and all claims, losses, liabilities, and expenses, including reasonable attorney fees, that may arise from any third party claims for copyright infringement, torts, or invasion of publicity or privacy rights. You further acknowledge and agree that photocopies or other reproductions may only be made with the University's prior approval. Requests will be considered on a case by case basis and approval will be in the University's sole discretion.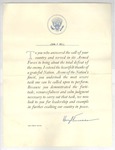 COinS