Preview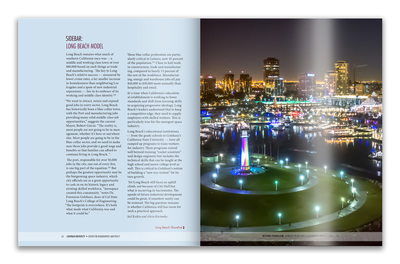 Description
Beyond Feudalism is a 96 page Research Brief for the Chapman University's Center for Demographics and Policy. It is always a pleasure to work with them and help showcase all their hard work in a way that makes it easier to understand and more compelling. This is their second brief on California's middle class Feudalism. My student design assistant Cassandra Taylor, BFA GD '19 in the Chapman University Ideation Lab worked on the first part.
This brief was authored by: Joel Kotkin (co-author), Marshall Toplansky (co-author), Wendell Cox (demographic researcher), Mike Christensen (education), Karla López del Río (research), Zina Klapper (editor), Alicia Kurimska (copy editor), and Chad Lonski (researcher). The Chapman Research team, headed by graduate Alex Thomas, did outstanding work on this project. Doug Havard and Luke Edwards, both currently enrolled in the school, contributed greatly to our efforts.
This project would not have been possible without the support of Chapman University and our donors. We particularly would like to thank President Daniele Struppa, School of Communications Dean Lisa Sparks, Argyros School of Business and Economics Dean Thomas Turk and Tom Piechota, Vice President of the Office of Research at the University. The project was greatly helped by Mahnaz Asghari who made sure the trains all ran on time, and our team of student researchers who diligently mined data and insights on myriad topics.
Our generous donors include venture capitalists Andy and David Horowitz ; philanthropist Howard Ahmanson; Joe Lozowski, President of Tangram Interiors ; real estate entrepreneurs Irv and Ryan Chase; Dan Heinfeld, President of the architecture firm LPA; and Tom Tait, entrepreneur and former Mayor of Anaheim. We also acknowledge the timely support from the Southern California Gas Company, Orange County's Credit Union, and CRC, Inc.